In another one of those vague message center posts, Microsoft recently announced "Improving the performance by removing portal.office.com redirect". A month or so was given to tenant in order to prepare for the change, as seen on the screenshot below (btw, it's 20 Aug today Microsoft).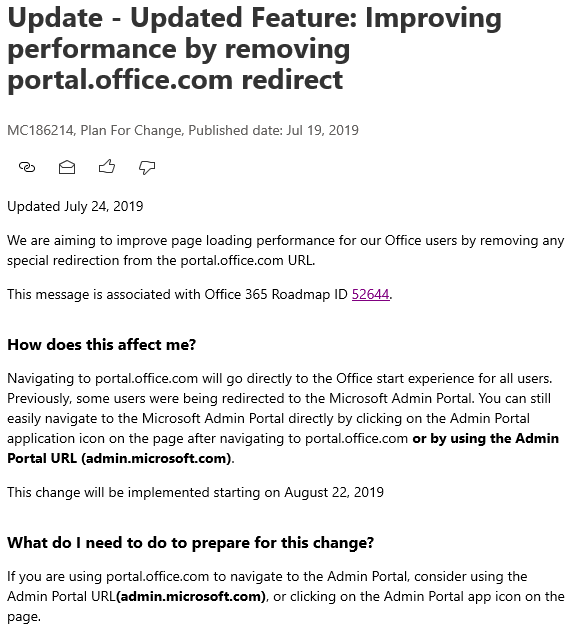 What the feature really does is to remove the "set your start page" functionality that was previously available as part of the Office 365 settings menu. There, you were able to select which page you would be redirected to once you login to Office 365, with the available choices being: Mail, Calendar, People, Newsfeed, OneDrive, SharePoint, Tasks, Delve. Admin users were presented with one additional option, namely selecting the Office 365 Admin Center. Back when this option first appeared, MVPs and customers alike repeatedly asked Microsoft to allow us to configure those settings on behalf of the user, but nothing even came out of this. At most, we were able to report which page the user will be redirected to, by looking at the UserLandingPageIdentifierForO365Shell property:
UserPrincipalName                                                 UserLandingPageIdentifierForO365Shell
-----------------                                                 -------------------------------------
newMEU@michev.info
vasil@michev.info                                                 shelladmin_office365
Anyway, this change seems to now be rolled out, at least in the tenants I have access to. My personal choice, as seen from the PowerShell output above, was to get redirected to the Office 365 Admin Center, and that experience is now broken. Instead, if I want to get directly to the Admin Center now I should use the admin.microsoft.com link, as advised in the Message Center post. Other choices can also be replaced with direct URLs as needed.
Since Office 365 is ever-changing, one can expect that functionalities that made sense few years ago to become obsolete, and if you look at the list above you can notice some entries that don't really work anymore. On the other hand, being able to set this additional customization was certainly helpful for some users, and I simply don't buy the "improving performance" excuse. If anything, the "Office start experience" page has gotten more and more unresponsive over the years, with the latest version causing IE to hang. And, despite numerous previous like issues reported by MVPs, Microsoft is yet to provide a reliable experience with respect to the information presented on said page, which continues to surface documents accessed by background processes or fails to list a given application. But those are things that we will discuss in another rant 🙂