This news went out few weeks back, but now we are actually seeing the 100GB mailboxes appear across the service:

The rollout seems to be happening on a per-server/DAG, rather per-tenant. If you are still not seeing the new limit and want it so bad you can't wait few days more, you should now be able to increase the quota manually via PowerShell.
While the above information is hardly news by now, something more interesting can be spotted in the Exchange Online Limits article. Namely, the Archive mailbox size is now listed as 50GB across all options and the "unlimited" wording we had before seems to have disappeared. Effectively, Microsoft has swapped the size of the "regular" mailbox and the archive one, a change that probably makes sense only to the marketing guys.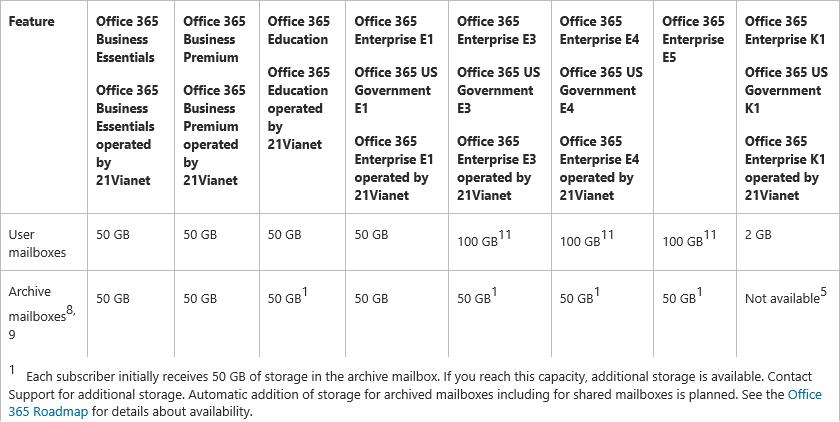 On the topic of Unlimited (archive) storage that was promised years ago, but is yet to appear in the service, no clarity is given. As mentioned above, the "No limit" wording has disappeared and is now replaced with 50GB, and the footnote no longer mentions the 170 GB limit we had previously (100 GB initial size for the archive mailbox + 70 GB increase after you contact support). The Office 365 Roadmap on the other hand shows the Auto-expanding archives feature as "rolling out", so hopefully that's the good news here!
Just for fun, here's how the table and wording looked like few months back:

And here's the sad news, the "Archive" folder that appeared at the end of last year is here to stay. Seems like Microsoft is changing its recommendation as to where to store older messages, which is also confirmed by the above observations.