/// This is a four year old post by now, things change fast in the cloud. Since this was originally posted, Microsoft changed the approach of managing these settings, as detailed here. If you are looking for a programmatic approach, use the Set-EventsFromEmailConfiguration cmdlet.
Events from email is a new feature in Office 365, announced at the end of last year. It mimics similar functionality in Gmail, with the idea of assisting the user with automatically adding the relevant event information to their Calendar. The usual example is given with flights – as soon as you receive the flight confirmation from your airline, the service will detect this and gather the important details in a new Calendar event. Here's the example from the original blog post: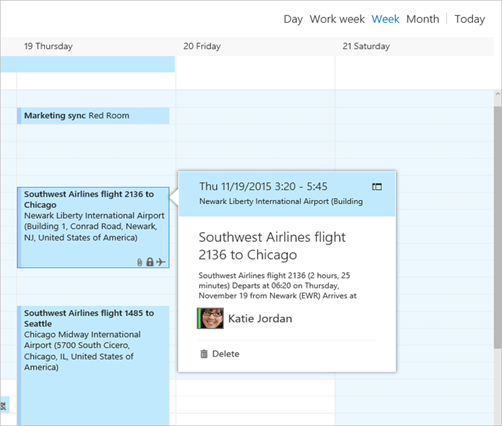 Apart from flights, the functionality will be available for dining reservations, hotels, rent-a-car, events such as concerts or even package deliveries, as long as the actual service provider is supported. Overall, the feature should be of some use, but we've already seen similar functionality provided by the actual service providers (for example my preferred airline sends .ics files containing all the relevant information along with the flight confirmation email).
As with many other new features, Events from email comes enabled by default, which might cause some troubles. Luckily, the Exchange team has provided us with the necessary controls. One can choose to enable/disable the feature altogether or only specific services. We can also request the "private" flag to be set on such events, so that delegates are not able to see them.
To change the settings, go to OWA -> Options -> Calendar -> Events from email or directly click here: https://outlook.office365.com/owa/?path=/options/eventsfromemail.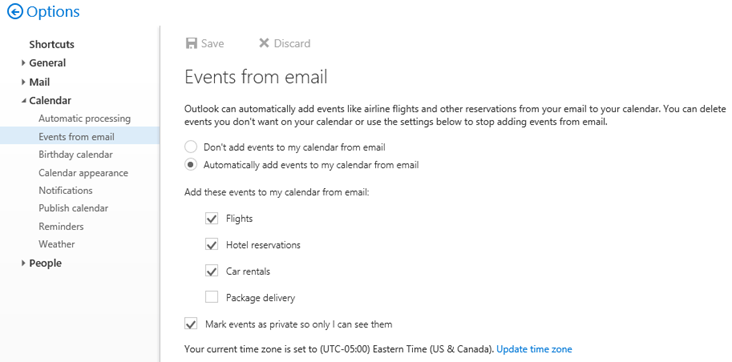 If you prefer PowerShell, the relevant settings can be controlled via Set-MailboxCalendarConfiguration. Here's the list of all relevant parameters and their default values:

Here's an example on how to disable all event providers, apart from airlines:

Or copy/paste:
Set-MailboxCalendarConfiguration vasil -DiningEventsFromEmailEnabled $false -HotelEventsFromEmailEnabled $false -RentalCarEventsFromEmailEnabled $false -EntertainmentEventsFromEmailEnabled $false -PackageDeliveryEventsFromEmailEnabled $false

And here's an example on how to bulk control the settings for all mailboxes:

Or copy/paste:
Get-Mailbox -RecipientTypeDetails UserMailbox -ResultSize Unlimited | Set-MailboxCalendarConfiguration -EventsFromEmailEnabled $false -CreateEventsFromEmailAsPrivate $true

An example discussion on the matter can be found here or here.