So, it seems that in Exchange 2013/Exchange Online, you are no longer able to organize Forms stored in different mailbox, unless you are accessing that mailbox in cached mode. The solution is simple – turn on the "Download Shared Folders" option to make sure that any additional mailboxes are cached locally. Yet it took a lot of time to narrow it down and solve it, mainly due to the lack of any documentation about those changes. Microsoft and the Exchange PG in particular should really stop the annoying practice of pushing changes without as much as a single word on the changed functionality 🙁
Anyway, some more details for those that are interested. First of all, a brief overview. The customer migrated to Office 365 back in 2012, when public folders were not available in Exchange Online. So instead of using Public Folders/Organizational Forms Library, Forms were published into a shared mailbox, at the Top of the Information Store level. The corresponding folder permissions were adjusted so that everyone in the company can access the forms, and few users had the rights to publish new/manage existing Forms.
Everything was working just fine, and then the wave 15 upgrade hit us. All the users responsible for managing Forms started complaining that they are no longer able to manage them Forms, but we were unable to find anything out of the ordinary. We reapplied the permissions, played with Full Access, tested on different machines, different Outlook versions, different network, non-federated user accounts even. And in all cases we had the exact same result, the Copy/Update/Delete/Properties buttons were grayed out. Here's how it looked like: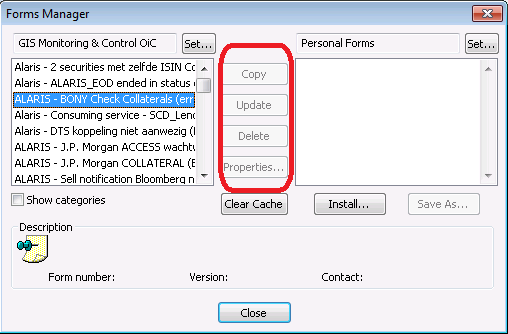 As we were able to reproduce the issue with newly created shared mailbox, we opened a case with Microsoft to check if the problem has something to do with the upgrade process and the new Exchange version. They were not aware of any such issues and after the initial information gathering, nothing really happened. So I started playing with the issue again, first by trying to reproduce it with my own Office 365 account. Everything was working just fine there, so it seemed to us that it might indeed have something to do with the ongoing upgrade process.
And then, while playing with the same shared mailbox on unrelated issue, I checked Forms and it was working. Turns out, this time I had configured the "Download Shared Folders" option. Now, one might say that this is an option that it turned on by default, but in reality it's often unchecked/disabled via GPO. The reason behind this is simple – we want to avoid blowing up the .ost file, especially when not using Outlook 2013 (which comes with the handy slider). So, getting back to another machine, I was able to confirm the solution and then test it again with the affected users. As some of the shared mailboxes were enormous in size, we had to do some archiving/cleaning up first, but at the end, we got all forms working.
In the meantime the upgrade to wave 15 was finished and also the case we had with Microsoft Support was escalated. I was then able to discuss this issue with the Escalation Engineer and received confirmation of successful reproduction on their end as well. Sadly, they were also not aware of any changes made to this functionality in Exchange 2013, but hopefully the feedback will be passed along the chain and proper documentation will appear. One can only hope…