Recently, the Message trace detail dialogs, available under the Mail flow tab in the Exchange Online EAC, received a facelift. The team has incorporated some of the features of the new, "joyous" NDR messages, which were introduced almost a year ago.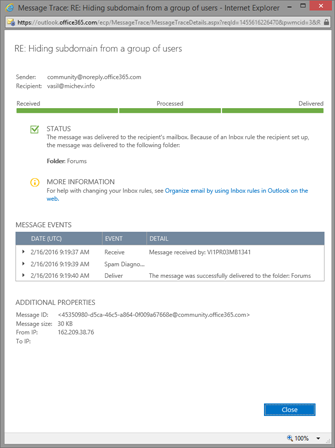 Basically, the Message trace detail dialogs look prettier now and include a lot more useful information. A quick status report is shown on top and additional information is surfaced in case any rules acted upon the message. Simple, but very effective way to help unexperienced users locate that "missing" message. As an example, take a look at the screenshot on the left. As I participate in lot of Office 365 related communities, I tend to receive tons of notifications, and I use a rule to move all of these in a particular folder. The new UI is smart enough to detect the redirect and offers a detailed explanation, along with the Folder name. In case you are wondering how is it getting this info – it's actually visible in the output of Get-MessageTraceDetail 🙂
Believe it or not, but the issue with "missing" messages is a widespread one. Not only people that are new to Outlook and Exchange suffer from it, even experienced users can get confused at times. Microsoft is not without fault here, for example the introduction of the Clutter folder resulted in a very noticeable spike of complaints about such "missing" messages. The Sweep rules can also cause confusion, so educating both users and admins alike is a must. With that in mind, I like the small bits of texts that the team has decided to put under the More information section. An example one reads:
More Information
If the recipient can't find the message in their Inbox folder, it might have been deleted or moved to another folder (such as Junk Email) either manually or automatically based on an Inbox rule or Sweep rule the recipient set up. Ask them to search for the message across all folders in their mailbox.
Tip: If the recipient still can't find the message in Outlook, they might be having connectivity issues. Ask them to try restarting Outlook or use Outlook on the web to check for the message. To see detailed steps for fixing Outlook, see Fix Outlook connection problems in Office 365."
Obviously they cannot cover every single case or include lots of details on the dialog page, but I really appreciate the effort Microsoft is putting into this. Even though the changes here are mainly targeted at the IT Pros.
Another minor, but useful improvement is the grouping of the Message trace details events. You can easily access them on the same page now, as clicking the small arrow on the left hand side expands the event details. One can see that this is a work in progress, as there are still some details missing from the events. But it's certainly more useful than before.
When the message delivery failed for some reason, we get some rather visual indicators, as well as detailed explaination text. Again, very similar to what we get with the "joyous" NDRs feature. Depending on the particular reason for failure, we might be presented with different links to articles with detailed information about the possible causes. In some cases, a link to the OWA settings page or the message Quarantine might be included, as well as instructions on which steps to perform. Some example screenshots below: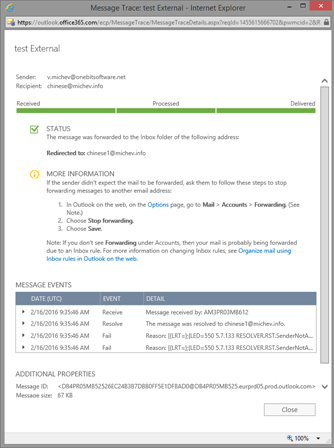 Overall, the feature is very nice and will help both Microsoft (by reducing the number of support calls) and the IT Pros (by helping them get useful information to better troubleshoot mail flow issues). During a recent chat with the PG, I asked whether there are any plans to at least try and bring similar functionality to the end users, perhaps as some sort of replacement for the "Message delivery report" functionality in Outlook, and the answer was that they are actively evaluating this. So even the end users might be able to benefit from it. Me likey 🙂