After a recent Office update, I noticed that Outlook suddenly become a lot more "chatty" than before, and various Outlook sounds were frequently played when performing various actions in the UI. Especially annoying were the sound effects played when hovering over Calendar items, which were noticeable even over my constantly playing Windows Media Player. For the record, I'm sticking to the good old Semi-annual enterprise channel, on the preview branch. Or whatever they call it nowadays. The version in question is 2302, build 16130.20306.
After poking around the generic Sounds options in Windows and Outlook's Options, I failed to find something obvious. My next stop was to check the changelog/Office updates page, which as expected featured nothing of note with respect to the issue. Switching to the acceptance stage, I decided I might learn to live with this… and failed. So I took yet another, deeper look into Outlook's Options and managed to locate the perpetrator. Turns out, the Provide feedback with sound option was toggled, and switching it off solved the annoyance for me.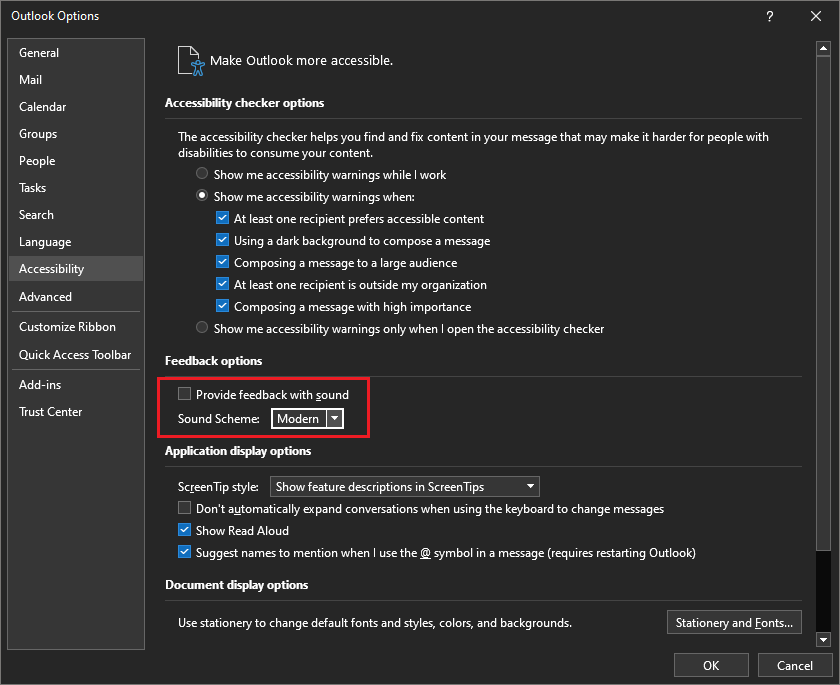 You can find the setting under File > Options > Accessibility > Feedback options, as illustrated on the screenshot above. At least in my case, it was toggled on by default, though I'm not sure if this is the intended behavior on new installs/updated installs. In any case, the option obviously serves a purpose, and it's a good one to have. In fact, we can select from two available Sound Schemes for it, with the Modern one being a lot less annoying than the Classic one. For me, at least.